nTrack™ Nursing Clinical Log
nTrack is an administrative tool that allows faculty to track, evaluate, and report on students' clinical experiences throughout their training.
How does it work?
Students enter information about each patient encounter in an easy to use web interface.

Students can review clinical experiences in a secure online repository.

Faculty review and evaluate each clinical experience online.
Features
Fully integrated with Skyscape's medical resources

HIPAA compliant

Ability to extract and print or e-mail reports

Secure web access on computer or tablet with internet

Hosted by Skyscape, places no burden on your IT resources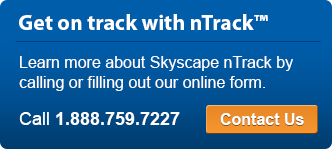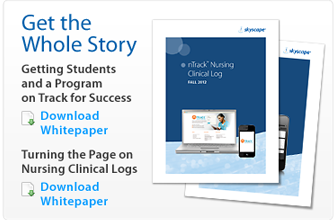 Benefits for Faculty
Less paperwork

Ability to provide ongoing feedback throughout each course

Track clinical experiences and check-offs throughout students' education

View individual's performance or aggregate data across the program

Easy access to data required for program accreditation
Benefits for Students
Access to vital nursing information at the point of care

Receive faculty feedback in near real-time

Gain experience entering data into an EHR-like system

Documentation for portfolios when applying for employment
Get your program on track with nTrack. Contact us or call 888.759.7227.

Copyright ©2013 Skyscape.com, Inc. Skyscape® is the registered trademark of Skyscape.com, Inc.
All other trademarks, service marks and registrations are the intellectual properties of their respective owners.